Touring 'Cowboy Country'
Big Lake Ranch/Brainard High Performance Horses |Buford Ranches LLC
Express Angus Ranches | Limestone LLC | Oklahoma State University
Pollard Farms LLC | Smith Land & Cattle | Woolaroc Museum & Wildlife Refuge
Wednesday, October 8

Smith Land & Cattle*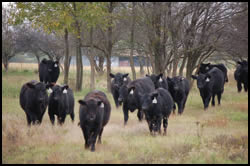 Smith Land & Cattle is located in the rolling hills of northeastern Oklahoma just east of Claremore. Carol and Ed Smith each started their lives on farms in Kansas and Nebraska, respectively, and moved to Oklahoma's cattle country 35 years ago. They have two children, Brandi and Chad. Chad and his wife, Christie, have two daughters, Kate and Ella. Brandi and her husband, Mark, have a daughter, Sophie.
Ed and Carol own a heavy highway construction company in which Ed is still involved. He helps out at the ranch as needed, especially during breeding season and haying time. Carol retired from the construction company to run the ranch, and a passion for the Angus breed developed.
In 1993 they sold their commercial cow herd and bought Angus. They host an annual production sale each September at their ranch. They take pride in repeat customers who rely on them for quality Angus genetics.
Carol and Ed maintain a moderate-frame cow for profitability, always keeping in mind the maternal traits while adding carcass value for today's market. To further improve their genetic base they utilize artificial insemination and embryo transfer.
The Smiths still move cattle and work them on horseback — one of the pleasures that go along with the daily work of raising and caring for cattle. Carol says, "There is nothing better than being horseback and watching the sun come up and moving cattle around."
Caring for the land is a priority for the Smiths, who use rotational grazing. They burn pastures in the spring to help the native pastures grow and to help with weed control. Carol is the 2008 Oklahoma Angus Association president. Read more about Smith Land & Cattle at www.crsmithangus.com.

Woolaroc Museum & Wildlife Refuge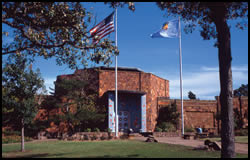 Oilman Frank Phillips established the Woolaroc Museum & Wildlife Refuge in 1925 as a ranch retreat hidden away in the rugged Osage Hills of northeastern Oklahoma. The ranch is a 3,700-acre wildlife preserve, home to many species of native and exotic wildlife, such as buffalo, elk and Longhorn cattle. Off the beaten path, Woolaroc is also a museum with an outstanding collection of Western art and artifacts, Native American material, one of the finest collections of Colt firearms in the world, and so much more.
The name Woolaroc is derived from three words — the woods, lakes and rocks that make up the beautiful Osage Hills of northeast Oklahoma where the ranch is located. The name was originally intended for the rustic lodge ranch house, but it was so unique that it soon became the name for the entire ranch.
With its wildlife preserve, rustic lodge, outstanding museum and rugged natural environment, perhaps the vision of Woolaroc can best be summed up in Phillips' own words: "This isn't all a dream about something, but a place where I can get back to nature. The great difficulty with the American people today is that they are getting too far away from the fundamental things in life. Too much time and money are spent on things which leave no record and which add nothing basically to the present nor to the future. To build permanently and wisely is to benefit all mankind. The conservation of wildlife now will mean much to future generations."
Woolaroc embodies the environment, cultural heritage, history and early values that made America great. All ages will enjoy the unique experience that is offered. Read and see more about this hidden treasure at www.woolaroc.org.

Buford Ranches LLC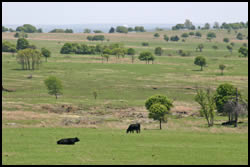 Sam Buford is a business-minded individual who takes pride in managing his commercial cow herd on the land of the Osage. A unique pasture drive through the tall-grass prairie will showcase the fruits of his, his family's and the ranch crew's labor.
Buford Ranches LLC, owned by Sam and his siblings Stephen Buford and Sharon Buford Linsenmeyer, was established in 1997 when the late John R. Dunkin and D.J. Pettit retired from ranching and closed their operation, the Rafter D Corp. The family ranching legacy was started 67 years ago by the Buford siblings' grandparents, Jane and John H. Dunkin, who started with a herd of Hereford cows. Crossbreeding was introduced to the herd in the late 1960s, with Angus bulls followed by Limousin bulls. Rotational crosses with the three breeds continued, with increased performance, especially in fall-born steer calves.
The Bufords have earned recognition as outstanding commercial producers. They were named the 2000 state and national Limousin Commercial Producers of the Year, and in 2001 they received the Oklahoma Angus Association's Commercial Producer of the Year Award. They have since phased out the use of Limousin genetics.
In addition to commercial cattle, the Buford family acquired the J-7 Angus and Hereford herds. They manage nearly 8,500 cows, of which 1,300 are registered. Land stewardship is vital to Buford Ranches, as attendees will witness on the tour. They expect ranch hands to care equally for the land as they do for the cattle.

Limestone LLC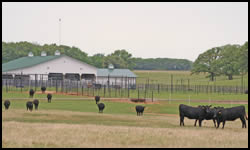 Chris McCutchen got his start in the registered Angus business in 1999, after managing a commercial Angus herd during the previous decade. His early goal for Limestone, near Perkins, was to establish 200 registered cows with foundation genetics from Express Angus Ranches, Pollard Farms, Pfeiffer Farms and Gardiner Angus Ranch. Less than 10 years later, the Limestone herd has grown to include 700 head of registered Angus mother cows and 1,500 all-black commercial cows. In addition, Limestone has a 5,000-head-capacity feedlot.
With the growth of the operation, management needs increased. Today, Mike Marlow manages the operation with the help of several highly skilled cattlemen. Limestone utilizes an extensive ET and AI program, implanting 700 embryos annually. They also AI 300-400 commercial heifers and up to 150 registered heifers each spring. With two fairly narrow calving seasons — January through March and September through October — ultrasound is used on all females at 30 days to check pregnancy between AI and natural service.
Cattle are marketed on the ranch through two sales annually — a female sale in September and a bull and female sale each February. The crew at Limestone believes in producing cattle that are feed-efficient, of moderate-frame and easy-fleshing with thickness, while not sacrificing performance.
Limestone exhibits its bulls in the Yards at the National Western Stock Show each year in Denver, Colo., and in 2008 claimed the reserve grand champion pen-of-three banner. Learn more about Limestone at www.limestonellc.com.

Thursday, October 9

Oklahoma State University*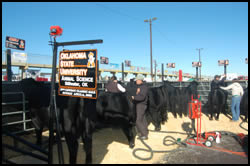 The Oklahoma State University Purebred Beef Cattle Center at Stillwater was established with Angus and Hereford cattle in the 1920s as an educational arm of the university. Today, 110 registered Angus and 125 commercial Angus cows used as recipients are part of the breeding and teaching program which includes four other breeds.
OSU continues to breed and raise purebred cattle to furnish students with a high-performing, modern herd used in numerous classes. The herd also provides 4-H and FFA youth in Oklahoma the facilities and cattle to help them prepare for careers in the beef industry.
In addition to the faculty and staff management of the cow herd, OSU employs 10-15 students per year at the purebred center, giving students real-life experience in beef production. OSU's goal is to produce structurally sound, functional cattle with the genetic merit to meet the needs of all segments of the industry while being in demand by other breeders.
OSU personnel use expected progeny differences along with visual evaluation of economically important traits in combination with pedigree evaluation to select cattle that meet this objective.
Each year OSU markets a number of show heifer prospects, cow-calf pairs and bulls through its Cowboy Classic Sale in April, also providing students with marketing perspective and experience. In addition, bulls are sold private treaty. OSU also exhibits bulls in the NWSS pen show. Visit www.ansi.okstate.edu for more information about OSU and its animal science department.

Big Lake Ranch/Brainard High Performance Horses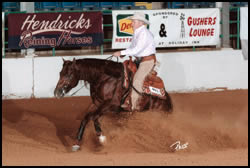 Third-generation horseman Jody Brainard has been training horses his entire life. His Switzerland-based partner, Gary Isler, owns the scenic Big Lake Ranch near Mulhall, where Jody trains and rides horses.
Brainard focuses on a high-quality training experience vs. training numerous horses, and typically works with no more than eight horses at one time, allowing him to spend as much time as needed with each animal.
Brainard focuses his attention on reining, one of the fastest-growing equine sporting events. Reining pits a skilled rider on a special athlete against a pattern designed to be challenging yet match the skill level of both horse and rider.
Brainard traveled to his first National Reining Horse Association (NRHA) Futurity in 1976 and won the Derby in 1983. He is also the vice chairman of the NRHA's Judges Committee. Tour-goers will have a real treat as Brainard demonstrates the athleticism of the horses he rides and trains. For more information about Big Lake Ranch, go to www.biglakeranch.com. (Some information reprinted with permission from Clifford Mitchell.)

Pollard Farms LLC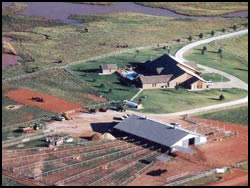 Barry and Roxanne Pollard own Pollard Farms, a registered Angus ranch that includes a farming operation consisting of wheat, rye and hay along with a stocker and commercial cow herd. Pollard grew up in an agricultural family and returned to his roots after completing his neurosurgery residency training in 1982 when he established his practice in Enid.
Currently, 500 registered Angus cows and 470 commercial cows comprise the herd. The Angus operation utilizes extensive AI and an intense donor and ET program to increase the quality of the herd. Use of these tools helps the ranch reach its primary goal of producing registered Angus cattle with balanced functional genetics.
The staff at Pollard Farms stays committed to maintaining herd health and customer relations, the backbone of any successful operation. Cattle at Pollard Farms are developed with the customer in mind. From making the breeding decisions to feeding the bulls on the ranch on open grass country, the crew is working to develop cattle that will go out and work for their customers. If the livestock hold up and make the customer more money, they will promote the program as much as the people who operate Pollard Farms.
Pollard Farms hosts two sales annually. A bull and commercial female sale is hosted in March. A production sale takes place each September and offers elite donors, top show heifer prospects, and fall and spring pairs. Read more about Pollard Farms online at www.pollardfarms.com.

Express Angus Ranches
Robert "Bob" Funk established Express Angus Ranches more than 13 years ago with the purchase of the B&L herd of Shawnee and the humble beginnings of Express Angus managers Jeff and Gayle Eckhoff. Since Funk added Angus genetics to his already established Limousin herd, more than 5,000 head of cattle are owned at Express, and the ranch registers more than 2,000 calves annually.
In addition to the seedstock operation, Express breeds more than 2,000 commercial females each year. The ranch, headquartered north of Yukon, is the third-largest seedstock operation in America based on sales records compiled by Cattle-Fax and published by National Cattlemen's Beef Association. Express estimates it will sell more than 4,800 head of Angus, Limousin and Lim-Flex genetics during the coming year.
Today, Express Ranches is active in every phase of beef production and has fed as many as 50,000 head of cattle per year. The acquisition of the historic UU Bar and Atmore Ranches located just outside of Cimarron, N.M., has added more than 164,000 acres of high-altitude rangeland to Express Ranches. A production unit of commercial cows and calves plus 4,000-5,000 yearlings each summer will result in the testing of Express genetics under semi-arid conditions that are not unlike that experienced by many of their commercial customers in the Southwest.
The genetics developed, tested and marketed by Express are required to satisfy the needs of every step in the production chain. Carloads of bulls shown at the NWSS and the sale of junior project cattle that can compete in every level of competition have led to an ongoing emphasis on phenotype and structural soundness.
Funk served as the North American Limousin Foundation president in 2006, and Express Ranches President Jarold Callahan currently serves on the American Angus Association Board of Directors. For more information about Express Angus Ranches, visit www.expressranches.com.

* These two operations will also host cattle displayed by other Oklahoma Angus breeders.

(to the top)