Tour Stops
Cottonwood Falls | Fink Beef Genetics | Gardiner Angus Ranch | Giles Ranch | Lyons Ranch
Pratt Feeders | McCurry Bros. Angus | Sankeys 6N Ranch | Stucky Ranch
Wednesday, October 3 — National Angus Tour Kick-off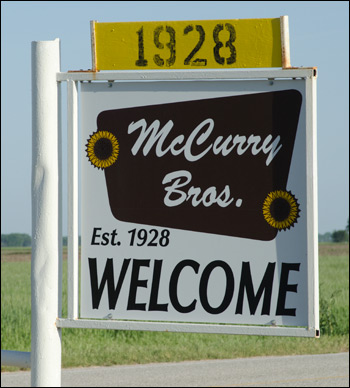 McCurry Bros. Angus is a family-owned and -managed operation located near Sedgwick, Kan. The cow herd originated when Walter McCurry purchased two Angus heifers from his brother-in-law, Johnson Workman, in 1928. Many bloodlines today can be traced back to Workman's herd, which descended from the very first Angus cattle brought by George Grant.
In 1958, Walter's five sons — A.J., Dale, O'Dell, Bob and Cecil — formed McCurry Bros. Angus. Dale, O'Dell and Cecil McCurry still are involved in the business. The day-to-day operations are managed by partners Greg, Brad, Geoff and Barry McCurry, who represent the third generation on the ranch and bring a lifetime of experience to the business.
Today, McCurry Bros. Angus consists of about 550 registered Angus cows, of which two-thirds calve in the spring and one-third in the fall, and an irrigated and dryland farming business. There are 10 full-time employees, nine of whom are McCurrys.
About 150 bulls are sold yearly through private treaty. With 85% of their customers being commercial cattlemen, they strive to produce functional, trouble-free cattle that excel on pasture, in the feedyard and on the rail.
Proven carcass genetics are used in the herd. At the same time, they acknowledge there are traits that expected progeny differences (EPDs) can't measure, and work to keep the herd structurally correct and sound. AI, embryo transfer (ET), EPDs and ultrasound are used to produce consistent cattle with superior genetics.
Thursday, October 4 — Flint Hills Tour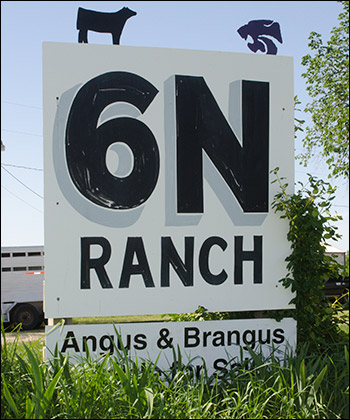 Located in the Flint Hills of Kansas, the 6N Ranch is owned and operated by Chris and Sharee Sankey; their son, Cody; and their daughter and son-in-law, Jeana and Dustin Hurlbut. The family has a long history in the Angus breed. As third- (Chris), fourth- (Sharee) and fifth-generation (Cody and Jeana) Angus breeders, they manage 100 registered Angus cows and 25 registered Brangus cows.

Sharee's family started Laflin Angus in 1900. The herd is one of the oldest Angus herds in the country. Many of cows in the 6N herd descend from those original bloodlines.

The Sankeys leased the original 6N Ranch in 1982 from Elliot and Helena Norquist and bought the headquarters in 1990. Because of the history of the ranch, the Norquists allowed the Sankeys to keep the name and brand.

To improve their herd, 6N uses many production and efficiency tools, like artificial insemination, embryo transfer, ultrasound data and DNA testing.

The Sankeys use extensive marketing tools for both bulls and females. They send bulls to the Midland Bull Test; sell bulls in the National Western Angus Bull Sale in Denver, Colo.; and host an annual female sale at the ranch in the fall. These sales, private treaties and their junior show heifer market have opened many domestic and international opportunities, with customers nationwide and in Mexico and Canada.

The Sankeys have had much success in the showring, especially with Sankey's Lazer 609 of 6N, who was a national champion and the 2008 American Angus Association Show Bull of the Year. A son of Lazer, Sankey's Justified 101 is the 2012 Fort Worth Champion Bull and the 2012 Reserve National Champion Bull at the Western National Angus Futurity in Reno, Nev.

Chris currently serves on the American Angus Association Board of Directors.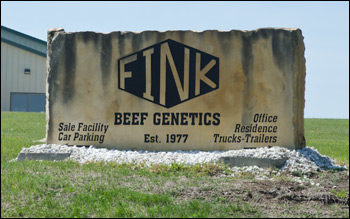 Started in 1977 as a purebred Angus program, this is a family-owned business under the direction of Galen, Lori and Megan Fink. Starting with one cow, no money, no land and two full-time jobs, the Finks rented land until purchasing their Randolph, Kan., headquarters in the spring of 2006.

Combining good common cow sense, ingenuity and 21st century technology, the Finks aim to deliver predictability, quality, efficiency and added value to increase cattlemen's profit and consumer beef demand.

Out-of-the-box thinking has garnered much program growth. They grow their bulls at a rate of 2 pounds per day to avoid excess fat. They use controlled matings and ownership on about 600 females and implant about 900-1,200 embryos each year. A fall program is used to reduce labor. The program also uses at least 99% AI matings. The Finks market more than 600 bulls each year.

Fink Beef Genetics uses many conservation tactics, including brush control and pasture renovation. They also use seven gravity-flow spring tanks developed for clean, fresh water.

They co-own Little Apple Brewing Co., a Certified Angus Beef® (CAB®)-licensed restaurant, which they co-own with Russ and Kelly Loub. Restaurant ownership and marketing the end product have emphasized the importance of quality and consistency all the way from cow herd genetics to the feedlot, packer and consumer.

Fink Beef Genetics has won many awards, including the CAB Seedstock Commitment to Excellence, the Beef Improvement Federation Seedstock Producer of the Year, Kansas State Alumni Fellow for Agriculture, Region 7 National Cattlemen's Beef Association Vision Award, the Kansas Master Farmer Award, Charolais Seedstock Producer of the Year, and a member of the K-State President Club. The Finks have also given presentations on their program in more than 25 states and Mexico and Canada.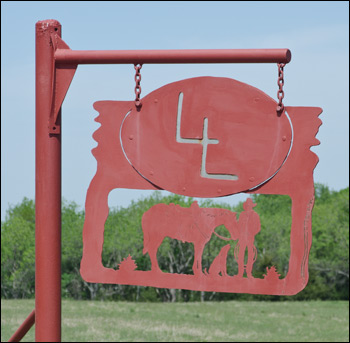 Lyons Ranch is a cattle and grass ranch in the Flint Hills of Kansas. Frank and Jan Lyons started their Angus herd in the 1970s. They own and operate Lyons Ranch with their daughter and son-in-law, Amy and Karl Langvardt, and their sons, Tanner and Trey.
The Angus tradition began more than 60 years ago on Jan's family's farm in northeastern Ohio when Jan found she loved helping her father, Harold Ferguson, care for his Angus cows.
Jan and Frank Lyons raised their daughters, Amy and Debbie, to love the cattle business, too. Jan and Frank operate the ranch headquarters near Manhattan, Kan., and Amy and Karl manage the south ranch in Wabaunsee County. Debbie and husband Duane Blythe also raise cattle, and Debbie shares their story through her blog, Life on a Kansas Cattle Ranch.
The Lyons Ranch cow herd consists of 300 registered fall-calving females. They are calved on brome traps and then turned out as pairs to native pastures. Native-grass pastures are burned annually in the spring to control brush and stimulate desirable plant growth. The family says they know they are fortunate to be caretakers of such a long-lasting renewable resource as the Tallgrass Prairie. Both operations of Lyons Ranch have been recognized independently as grassland conservation award winners.
The family will host its 25th Annual Lyons Ranch Superior Genetics Sale in March. The annual sale's offering generally consists of more than 100 18-month-old bulls. For the last two years, the family has been Igenity®-testing the bulls and utilizing genomically enhanced EPDs. Karl's family owns and operates two livestock sale barns in Kansas, JC Livestock Sales Co. in Junction City and Clay Center Livestock Sales in Clay Center. The family spends much time at the sale barns and, through the years, Lyons Ranch customers have sold thousands of commercial cattle at the Langvardt's regular and special calf sales.
The family has served the beef industry in many ways. Jan was the president of the Kansas Livestock Association in 1994, its centennial year. She was the first woman president of the Kansas Angus Association, served on the Kansas Beef Council in the 1980s and 1990s and served as KBC chairman. She was a long-time appointee to the Cattlemen's Beef Board and served as chair in 1996. Jan was president of the National Cattlemen's Beef Association in 2004, and she served as industry spokesperson the year when the first U.S. case of bovine spongiform encephalopathy, or BSE, was identified.
Amy, who was Miss American Angus in 1988, is a member of the board of directors for the Kansas Foundation for Agriculture in the Classroom and has helped that group write and publish teachers' guides on livestock, crops and the natural resources in the state.
Cottonwood Falls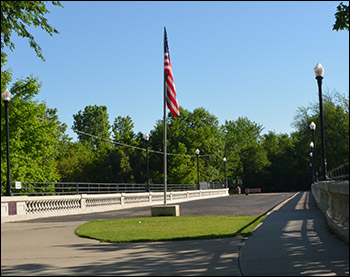 Dinner Thursday evening will be on the historic and scenic Cottonwood River Bridge, overlooking the Cottonwood Falls dam. The largest city in Chase County, Cottonwood Falls has five listings on the National Register of Historic Places, including the bridge, the Cartter building, the Chase County National Bank, the Samuel N. Wood House and the Chase County Courthouse.

The courthouse is the oldest courthouse in Kansas in continual use and is one of the oldest in use west of the Mississippi River.

The bridge was constructed in 1914 by the Missouri Valley Bridge and Iron Co. of Leavenworth. It is one of three reinforced masonry, earth-filled arch bridges still standing in Kansas. It was renovated in 2007.

The dam was first constructed in 1860 during a severe drought when the riverbed was dry. It provided enough waterpower for a saw and gristmill, though the mill stopped grinding in 1913 and was operated as an ice plant until 1925. The head brace and several supporting walls can still be seen at the south end of the dam.

After the dinner on the bridge, conference participants will have the opportunity to explore some of the shops along the bricked main street; Kansas's only AAA Four Diamond Historic Country Inn, the Grand Central Hotel; and French Renaissance style courthouse overlooking the street.
Friday, October 5 — Western Tour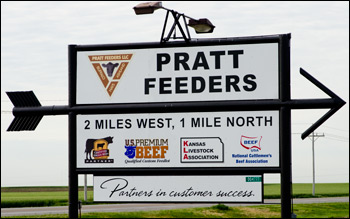 Pratt Feeders is a Certified Angus Beef LLC (CAB)-licensed feedyard. Located on the eastern edge of the cattle-feeding belt in Kansas, the feedyard offers its customers competitive grain prices, a moderate climate, lower cattle freight cost coming from the East, four weekly packer buyers and an experienced management team.

Pratt Feeders LLC encompasses Pratt Feeders, Ashland Feeders, Buffalo Feeders and Hays Feeders. All four yards are under the supervision of General Manager Jerry Bohn. The managers are in daily communication about market conditions and management ideas.

All four yards offer flaked-corn rations, feed and cattle financing, cattle selling advice, cattle hedging assistance, U.S. Premium Beef slots available for lease, emphasis on clean pens, three daily feedings, nutrition advice from Kent Smith of Nutrition Service Associates, and cattle buying available for investors.

Pratt Feeders, managed by Bohn and by Assistant General Manager Dave Latta, has a 38,000-head capacity, 60-head to 300-head pen sizes, mostly paved feed alleys, large bunk pad areas, close location to Pratt Livestock Auction, substantial involvement in KLA, and 30 years of combined manager experience with the company.

Ashland Feeders, managed by Mick Sharp, has a 15,000-head capacity, 70-head to 250-head pen sizes, a head cowboy who lives on location, and more direct cattle care by Sharp.

Buffalo Feedyards, managed by Tom Fanning and assisted by Fran Haefner, has a 32,000-head capacity, 60-head to 300-head pen sizes, a dryer climate, warmer winters, and easy access to Highway 64.

Hays Feeders, managed by Bill Sleigh, has a 20,000-head capacity, with 50-head to 300-head pen sizes, terrain for excellent drainage, close location to interstate 70 and close proximity to the Nebraska corn supply.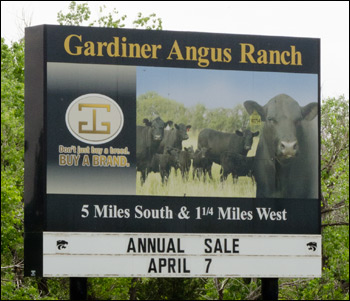 In 1885, five families traveled by covered wagon to Ashland, Kan. One of those families included the grandparents of Gardiner Angus Ranch owner Henry Gardiner. They homesteaded in a dugout before creating the ranch in the 1920s. It evolved into a commercial Angus herd in 1931 and added a registered Angus herd in 1947.

The ranch has grown significantly and now encompasses 1,000 registered Angus cows and 1,250 commercial Angus cows. The ranch is operated by two generations of Gardiners — Henry and Nan, along with their sons, Greg, Mark and Garth, and their wives.

As a family-owned seedstock operation, the ranch commits itself to producing quality beef from gate to plate. The combination of cattle breeding programs, cutting-edge technology and data management have established the Gardiner Ranch as an influential member of the beef industry.

The genetic improvement practices employed by the ranch have set it apart. The ranch has relied solely on AI, without the use of clean-up bulls, since 1964. The Gardiners mate high-accuracy, progeny-proven sires to daughters of high-accuracy, progeny-proven sires. They have used ET since 1987, making more than 2,000 embryo transfers per year.

Gardiner Angus Ranch has two production sales a year (one in April and one in September), selling a total of about 2,150 bulls, registered females and commercial females in both sales.

Additionally, they sell 1,200 bulls private treaty year round and an additional 1,000 commercial females in a customer sale in conjunction with their fall sale.

They were a founding member of USPB and are involved in many industry organizations.

The Gardiner Angus Ranch (and Henry Gardiner) has won numerous awards, including the NCBA Cattle Business of the Century, the BIF Commercial Producer of the Year, the BIF Seedstock Producer of the Year, Kansas Cowboy Hall of Fame, Record Stockman Man of the Year, and the CAB Seedstock Commitment to Excellence award.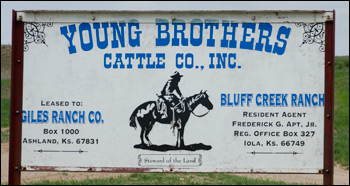 The Giles Ranch roots span back to 1872, when the first generation of the Giles family, George Lee, shipped cattle in the Texas Longhorn trade and worked in two cattle drives. A generation later, they moved to what was named Giles Town (now Claflin, Kan.). In 1947, Norman Albro and Norman Lee purchased the original ranch in Clark County, Kan.

The Giles Ranch is a commercial cow-calf, stocker-feeder operation using mostly native grasses and improved pastures in the Bluff Creek area, where mid-grass and short-grass regions meet. Most of the calves are fed through a USPB-marketed feedlot. In 2011, Giles Ranch built a grower lot for further diversification. The lot is used for Giles' own calves and others on a custom basis.

The cows are hardy, productive and must prove their worth year after year with a live calf, which will be either retained in the herd or fed for Angus-based, value-added programs. Throughout the years, the Giles Ranch cow herd has been selected for reproductive efficiency, growth and carcass traits.

The herd is a high-percentage Angus herd with a strong Gardiner Angus Ranch influence. The first-calf heifers and young cows are bred to calve in a 75-day window, beginning Feb. 1. They use strict culling and diversified feeding experiences to keep heifer replacements and retain ownership on their steermates.

Today, Giles Ranch is home to four generations of the Giles family: Dolores Giles; her son Roger and his wife, Cathy; and Roger and Cathy's daughters, Jennifer and husband Shane Betschart with sons Peyton and Ethan; Katie and husband Brett Shaw; and Molly and husband C.J. Beckford.

Having several generations on the farm, their management practices revolve around leaving the land for the next generation in better shape than they received it.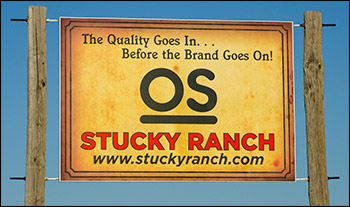 The Stucky Ranch began in 1937, but it was Gordon Stucky's lifelong dream to build a registered Angus herd to compliment his family's existing commercial Angus herd. He started fulfilling that dream in 1976. From 1976 to 1982, approximately 200 females were purchased from sales in Kansas and the Midwest. The current Angus herd is based on several cow families from that original group, with dominance by the "Eisa Erica" family. The ranch icon female, Circle S Eisa Erica 6073, has 198 progeny recorded and forms the nucleus for this performance-oriented herd.
Currently, 250 cows are calved on the Stucky Ranch each year, with more than 200 additional calves born at cooperator herds. Approximately 400 embryos are collected from foundation females annually. The number of bulls produced each year continues to grow with the use of sexed male semen in ET.
Gordon has put a strong emphasis on within-herd performance data for genetic selection, and he is utilizing genomic technology to improve accuracy in selection decisions. Foundation females from the past 10 years have been evaluated with the Pfizer HD50K genomic evaluation. Complete performance measurements, along with carcass ultrasound and disposition scores, are collected through yearling age on every calf born.
Male calves not kept for breeding bulls are banded after yearling data is collected and sold on the USPB grid to collect carcass data at harvest. Cow herd data collected include udder score at calving and dam weight with body condition score at calf weaning.
The marketing focus concentrates on producing 14- to 18-month-old registered Angus bulls for the commercial industry. Bulls and females are merchandised by auction the second Wednesday in March each year and by private treaty. The Stuckys have also recently joined forces with several other Kansas Angus producers for a joint fall female sale hosted the first Saturday in October. The ranch's profitability hinges on the ability to provide customers with animals that provide predictable genetic results, and then follow the sale with superior customer service.
Gordon is a past director and president of the Kansas Angus Association. He currently serves as treasurer for the Board of Directors for the American Angus Association.