An Invitation from Bryce Schumann, CEO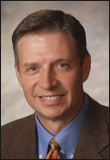 Bryce Schumann
When George Grant brought those four Angus bulls to the Kansas prairie in 1873, he had no way to predict the impact they would make on the beef industry nearly 140 years later. Angus genetics and the technologies available to all cattle producers will be highlighted at this year's National Angus Conference & Tour Oct. 3-5, when we invite and encourage all of you to "Come Home to Kansas," where our great breed got its start.

Our staff has planned a thought-provoking conference that will enlighten producers on some of the industry's leading technologies in the areas of feed and reproduction efficiencies. We are excited to share some of our latest programs for both purebred and commercial producers, while also hearing from some leading experts in the areas of feed efficiency, reproduction and genomics.

Following the conference, we will have the opportunity to see genetics from herds all across Kansas. We will tour the tall grasses of the Flint Hills; and go west into diverse areas of Kansas, including a stop at a prominent CAB-licensed feedlot.


Click here to register online.
We are always excited to have our major partner, Purina Mills, with us for this event, and this year is no exception. I hope you and your family will mark your calendars for Oct. 3-5 and "Come Home to Kansas" to visit with old friends, meet some new ones and see Angus genetics where they got their start in this country.