Tour Stops
University of Georgia | Partisover Ranch | Acres Away | Lane Packing | Kensington Farm | Wakefield Farm | Bramblett Angus | Britt Angus | Mayfield Dairy
Tuesday, September 6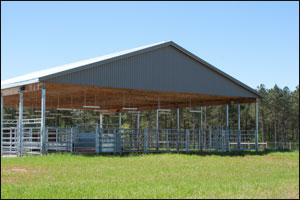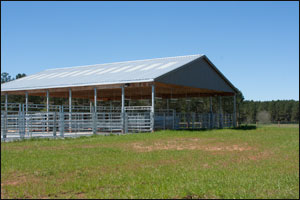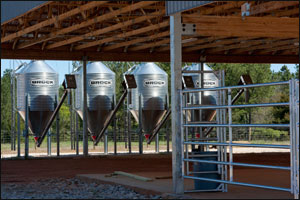 The University of Georgia (UGA) was chartered in 1785, and faculty members have been involved in agricultural research and education since the early 1800s. The college of agriculture was founded in 1859.

Just a few blocks south of the Athens Classic Center on Broad Street stands the Arch, the entrance to old North Campus. The Arch was erected in 1857 and the three cast-iron columns signify wisdom, justice and moderation. When it was first erected, gates mounted on the arch kept livestock off the campus grounds. Today, the gates are gone, and those who take a few minutes to walk through the old part of campus can enjoy the Greek revival architecture.

UGA livestock operations are located at experiment stations all over the state. There are purebred Angus herds at the Wilkins Unit about 30 miles from Athens, and there is a purebred Angus herd at the Coastal Plains Experiment Station in Tifton.

The Double Bridges Farm is a few miles outside of Athens. This farm has just been developed to replace lands lost in campus expansion. It will be used primarily as a teaching unit for beef, swine and sheep. The farm's beef operation will primarily develop replacement heifers from the Wilkins unit.

The primary functions of the Angus herd at the University of Georgia are to provide cattle to use in research projects and to provide hands-on experience for students in the animal and dairy science program. The purebred Angus herd began in the mid-1970s and includes 140 registered and 30 commercial Angus cows. Bulls and some females are sold in the university's annual auction.
---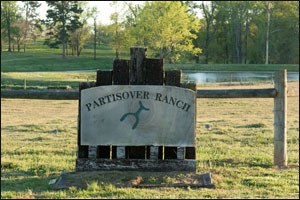 When Dan Daniel moved his family from Oklahoma to Georgia more than 40 years ago, he was focused on becoming the head of the animal science department at the UGA. In 1970, when son Randy was attending college, Dan also dedicated resources to founding a cattle herd, known today as Partisover Ranch.

The Colbert, Ga., operation is now owned and operated by the Dan and Randy Daniel families with assistance from UGA students. The ranch is home to 270 registered Angus and SimAngus cows, and includes a partnership herd in Oklahoma that was added about five years ago. The cow herd base is Angus, which is used to produce Angus and SimAngus composites.

Most cattle are sold private treaty, but the operation also utilizes a rented sale facility. Partisover Ranch participates in two to three sales annually and has sold genetics to producers in more than 40 states.

Dan has been honored extensively in the livestock industry, including having his portrait hung in the Saddle and Sirloin Gallery — one of the most prestigious honors in the livestock business. Partisover Ranch has been recognized with producer and breeder awards, including honors as the Outstanding Producer by the UGA College of Agriculture Alumni Association. And Showtime magazine inducted Randy into its Hall of Fame in 2010.

While at Partisover, attendees will hear from Georgia Agriculture Commissioner Gary W. Black. Commissioner Black served as state president for the Georgia FFA and earned an agricultural education degree from UGA in 1980. He began his career with the Georgia Farm Bureau in 1980 and later served as coordinator for the State Young Farmer Program. Black started a Washington leadership program for young farmers in 1983.

He later served as the Georgia Agribusiness Council's president for 21 years and co-managed the Georgia Food Industry Partnership for 13 years. In 2010, he was elected the state's 16th Commissioner of Agriculture.

Commissioner Black and his wife, Lydia, have two children, Ward and Caroline — both UGA graduates.
---
Wednesday, September 7
Acres Away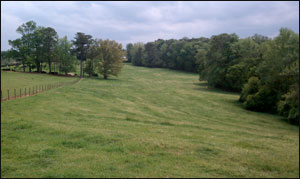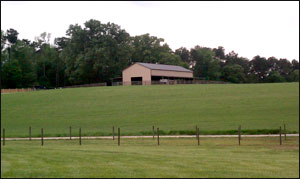 Truett Cathy, founder and CEO of Chick-fil-A, and his family will host the breakfast stop Wednesday at his son-in-law's Angus farm, Acres Away, near Hampton, Ga. Tour attendees will have the opportunity to enjoy a tasty Chicken Biscuit while looking over Angus cattle and viewing Cathy's antique and collector car collection that spans multiple buildings.

John White started Acres Away in 2009 and has built his herd to approximately 50 head of registered and commercial Angus cows. The herd is managed by Chris Phillips at Cathy's home. The Cathy family is known throughout Georgia for their business success, philanthropy and environmental stewardship.

Three generations of the family are involved in the company business that started in 1946 with their first restaurant, the Dwarf Grill, and now includes the well-known Chick-fil-A restaurant chain as well as the WinShape Foundation, a nonprofit and charitable foundation with a simple yet profound goal to help "shape winners."

---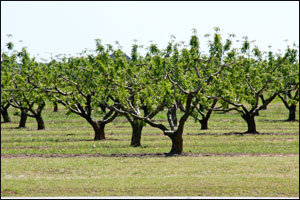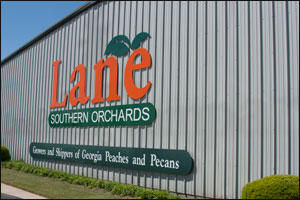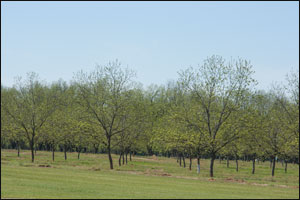 Located just outside of Fort Valley, in the heart of Middle Georgia, Lane Southern Orchards has been growing peaches and pecans for more than 100 years.

John David Duke founded the orchard, then known as Diamond Fruit Farm, in 1908. Peaches were shipped in wooden baskets, which he also manufactured on the farm.

John David's grandson, Duke Lane Sr., or "Big Duke," later took over the farm, which thrived as a result of his leadership. Today, the farm totals nearly 5,000 acres.

The present packinghouse, a state-of-the-art facility, was completed in 1990 and remains one of the most modern and efficient packinghouses in the industry, with the capacity to pack and ship up to 1 million 25-pound cartons of peaches per season.

In 2006, Lane Packing Co., as it was then known, was purchased by Lane Southern Orchards, led by Sid and Rusty Banack of Vero Beach, Fla., who have grown, packed and shipped world-famous Indian River Citrus for almost 50 years. Together, the two companies now offer a year-round supply of premium farm-fresh peaches, oranges, grapefruit and pecans.

Today, the fourth and fifth generations of the Lane family remain involved, and the company continues its growth. Lane Southern Orchards has added a farm market, restaurant, bakery and catering divisions to serve local customers as well as the orchard's 300,000 yearly visitors.
---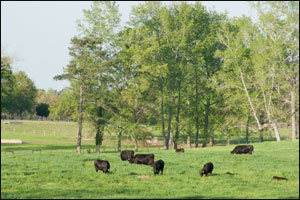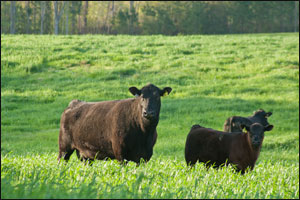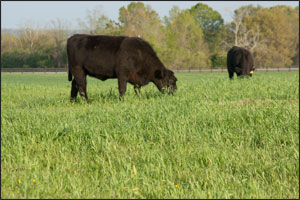 Kensington Farm, Molena, Ga., is home to 300 head of registered Angus cows, 50 embryo transfer (ET) calves and an additional 100 head of Angus bulls from cooperator herds.

The farm was originally purchased in the 1870s, when the farming operation originally produced "king cotton," corn and soybeans while operating the area's only cotton gin.

The oak tree that stands on the farm's highest point was planted from sprigs transplanted from Kensington, England. Today, this tree and others like it carry deep ties to the land, which represents one of Georgia's oldest family-owned and operated farms.

In the 1940s, registered Polled Hereford cattle were introduced by Dan Beckham's father, Richard. The farm continued to offer purebred Herefords until the early 1970s, when the business transitioned into a commercial cow-calf operation.

In 2008, Dan purchased the Lemmon Angus herd of 1,100 head and focused on producing cattle with balanced traits. Today, the original farm now serves as one of Kensington's development facilities for purebred Angus bulls and replacement females.

Kensington Cattle Co. hosts an annual production sale in the spring. Bulls are marketed annually in the fall.

The farm allows Angus cattle to graze approximately nine months of the year on primarily Bermuda grass pastures. High-quality hay is supplemented through the winter and mineral is provided to the herd throughout the year. Stocking rates average one cow per 2-3 acres of improved pastures, and the area typically receives 50 inches of rainfall per year.

The Georgia Historical Society recognized the Beckham/Dunn family home place for its continuous 100-year-old existence. Kensington Cattle Co. was also named the 2010 Mid-Georgia Cattlemen's Association Purebred Breeder of the Year.
---
Thursday, September 8
Wakefield Farm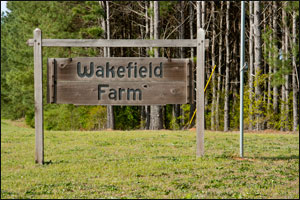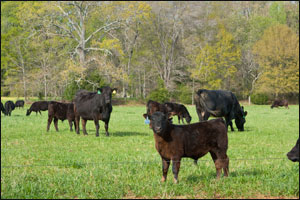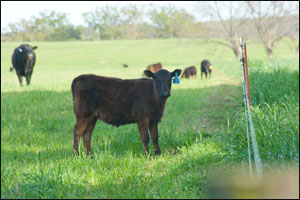 Wakefield Farm, Hartwell, Ga., began at its current location in 1981 as a commercial cattle and crop operation. However, owners Dick and Julie Phillips began converting the cropland into grasslands shortly after purchasing the farm.

In 1999, the farm began raising several ET calves for numerous area breeders. Today, the farm raises approximately 120 ET calves each year.

With the help of Scott Fleming and Todd Baldwin, the Phillipses manage 30 registered Angus cows and more than 400 head of commercial Angus.

Wakefield Farm operates with an eye on business and is focused on the profitable production of beef. The operation continues to seek out ways to improve and conduct its day-to-day activities in an environmentally responsible way.

The farm markets animals through private treaty, consignment sales, local livestock auctions and other venues.

In 2006, it was named Georgia Cattlemen's Association Commercial Cattleman of the Year, Hart County Cattle Operation of the Year, and was a regional winner for the Governor's Land Stewardship Award.

The farm has received other accolades for its land stewardship efforts, including the National Cattlemen's Beef Association Regional Stewardship Award in 2002 and the Georgia Forestry Commission Forest Stewardship Award in 2004.
---
Bramblett Angus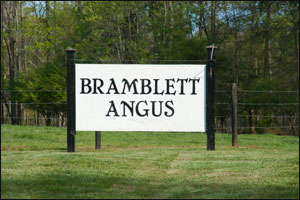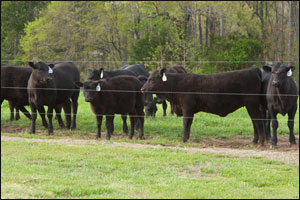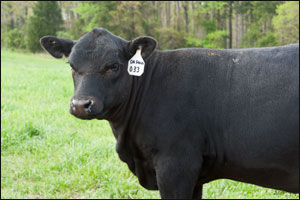 The Bramblett family established its Elberton, Ga., Angus operation in 1980 when Larry and Virginia Bramblett purchased the herd as a hobby in addition to their full-time professions at the UGA and Athens Technical College. But the operation expanded as time continued and children John and Laura grew. Both Bramblett children began showing Angus cattle, and Larry began selling registered Angus bulls to commercial cattle operators.

The operation utilized artificial insemination (AI) and ET technology and began a focus on carcass performance. Primary Bramblett genetics were purchased from Ankony and Lemmon cattle operations.

The Brambletts say all cattle purchases are made to enhance the herd. Cattle are evaluated on several criteria each year, including calf viability, milk and maternal traits; correct phenotype, weight gains of calves, cost of gain, and carcass traits. The operation grows most of its own feed.

Bramblett Angus maintains a focus on customer service and sells bulls via private treaty and through a fall performance-tested yearling bull sale.

Females are sold at Georgia Angus Association events, as well as production sales and through private treaty.

Larry currently serves as the president of the Georgia Angus Association and received the organization's Outstanding Leadership Award in 2010. He is a former president of the Hart County Cattlemen's Association, which is a chapter of the Georgia Cattlemen's Association.

The Brambletts are also active on the national junior Angus level. Larry served as a committee chairman for the 2009 National Junior Angus Show.

The Brambletts have received recognition from The White House, both chambers of Congress and the state of Georgia.
---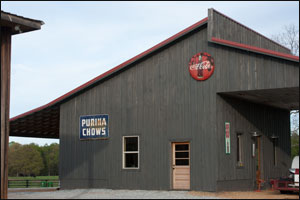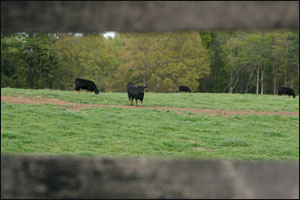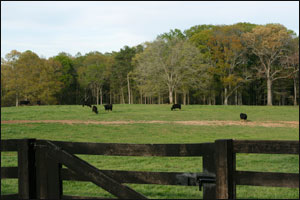 Owned by the Stacey Britt family, Britt Angus is located just a few miles south of Hartwell, Ga., a small lakeside town that rests on the Georgia-South Carolina border.

Stacey Britt's love for the Angus breed began at the age of 14, when he purchased his first Angus heifer and showed her at the Gwinnett County Fair in Lawrenceville, Ga.

Today, the farm has grown to include 150 registered Angus cows and 100 head of commercial cattle. Brian Federspiel and Raul Badillo manage the operation, which utilizes year-round grazing and live-virus vaccines in their herd health program.

Cows at Britt Angus calve in the fall, from early September to Dec. 1. The farm hosts a female sale in April and a bull sale in October.

Britt Angus is a member of the American Angus Association, Georgia Angus Association, Hart County Cattlemen's Association and the Georgia Cattlemen's Association.
---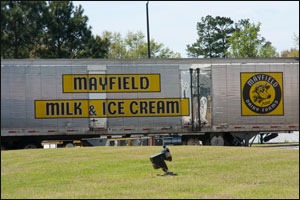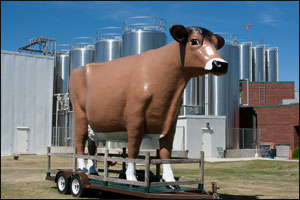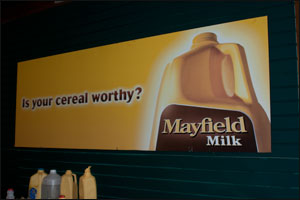 In 1910, T.B. Mayfield Jr. purchased 45 Jersey cows and began delivering milk to customers in his hometown of Athens, Tenn. Four generations later, the family milk and ice cream business has become one of the nation's favorite dairy brands.

In 1950, under the leadership of owners Thomas B. Mayfield III and C. Scott Mayfield Sr., the company grew into one of the nation's leading dairies, using advanced technology to bring the best products and innovative packaging to customers. Today, the company is the largest dairy in the southeastern United States.

Scottie and Rob Mayfield now make up the fourth generation of the Mayfield family helping to oversee the dairy's operations.

The dairy currently employs nearly 2,000 workers and serves nine states across the Southeast. The Mayfields strive to maintain a hometown philosophy with a focus on delivering great-tasting and fresh products to consumers, including a full line of milk, cultured and ice cream products. The full-service dairy annually produces 69 million gallons of milk and 28 million gallons of ice cream. Plants are located in Athens, Tenn.; Braselton, Ga.; and Birmingham, Ala.

In 1983, Mayfield became the first dairy in the United States to package milk in a yellow jug to help deflect light rays and protect milk nutrients and flavor. Mayfield Dairy is owned by Dean Foods Co.