A Welcome From Our Sponsor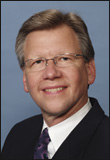 Rod Nulik
On behalf of Purina dealers and Land O'Lakes Cooperatives across the United States, I would like to welcome you to the 2011 National Angus Conference & Tour.

Purina is pleased to be the major sponsor for this conference. And we appreciate the great working relationship that Land O'Lakes Purina Feed continues to have with the American Angus Association and your excellent staff. We believe that the American Angus Association is a leader in developing programs and support mechanisms to help improve the competitive advantage of its breeders. Again this year your staff has assembled an excellent agenda that should make this conference a very wise investment of your time.

We share in your vision for the future of the cattle industry. With unsurpassed research and technical support, we lead the industry in providing America's cattlemen with innovative products and programs to help you make more efficient use of your resources of land, labor, capital and management. This is accomplished through Purina's exclusive Intake Modifying Technology® found in our Accuration® brand products and our Wind and Rain® cattle minerals redesigned for more consistent intake. We are confident that selecting these programs, along with sound advice from your Land O'Lakes Purina Feed representative, can help you achieve performance and financial goals for your operation.

If you have questions about Purina products or want to find the location of your nearest dealer, you can call 1-800-227-8941 or visit our Web site at www.cattlenutrition.com.
Again, welcome, and have a great conference and tour.


— Rod Nulik, Marketing Manager, Land O'Lakes Purina Feed
Click here to register online.